Italy: ah Verona, how I miss you!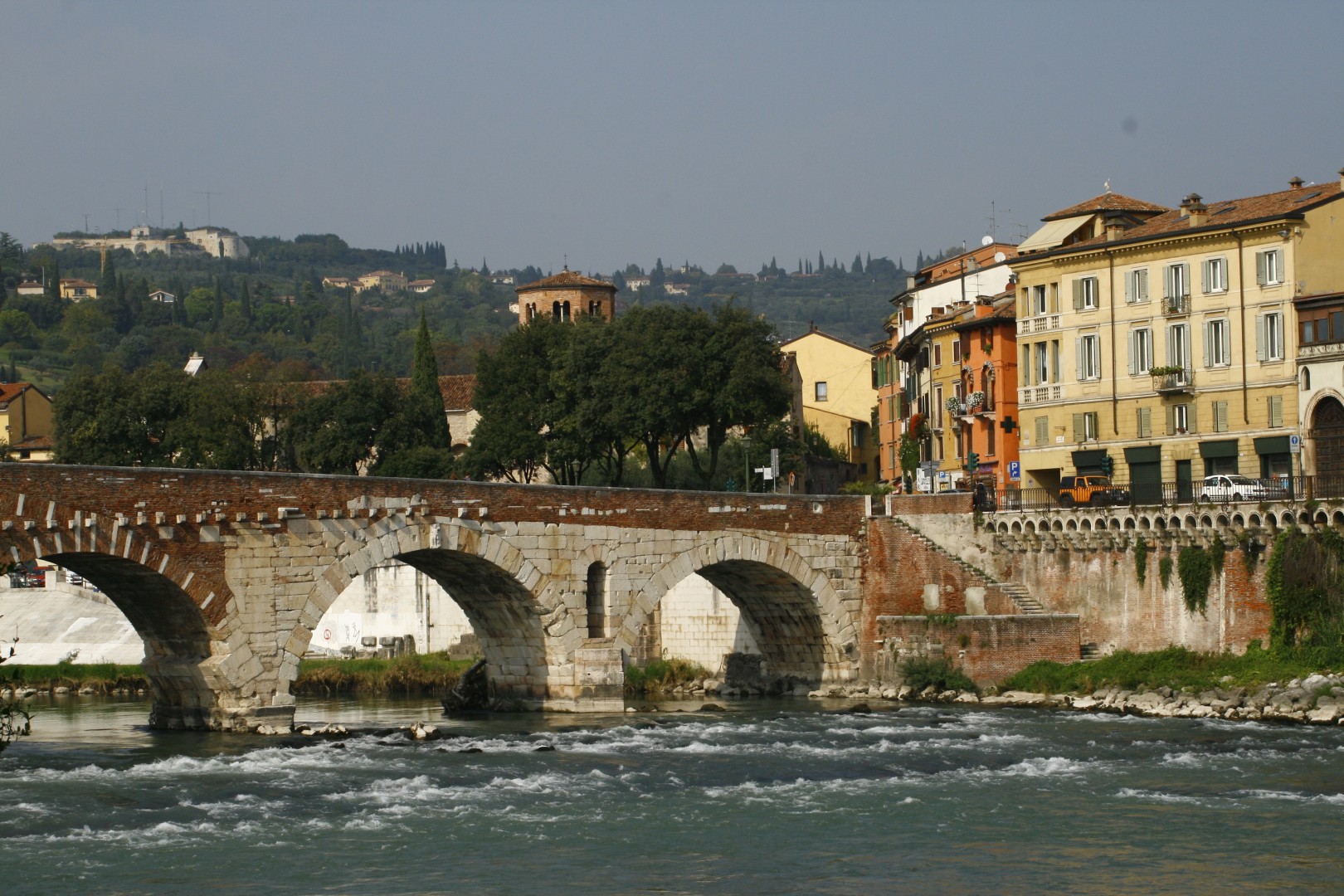 We visited Verona for a few days and we were very pleased we chose to go there. The plan was really to have an interesting place to stay for a few days so we could stay in one place, get a good sense of Italy again and stop feeling we were just on a non-stop tourism ride, with changes of location every second day. We thought we might visit a few places of interest in Verona and then visit some places in the vicinity, like Lake Garda and the Dolomites, maybe with car rental.
Well we did a fairly busy day's sightseeing on Lake Garda, using buses and ferries and the next day we had a good walk around Verona to get a feel for it, while reading guide-book type information. We found so much of historical and cultural interest there that we have abandoned the idea of a trip to the Dolomites.  We even forewent another day trip to Venice.
Day 1 we walked for hours and explored the old city with its tight streets and alleys, fascinating piazzas, palazzos, churches and Roman ruins. We also found that there was a performance at the Arena at night and we spent some money on tickets. It was excerpts from operas, sung by a soprano, a tenor, a baritone and a huge choir. There was a full orchestra and a couple of dance performances broke up the singing pieces. A wonderful night which ended with the entire opera singing Nessun Dorma which was spine tingling. The Arena is an open air Roman era building with a similar look to the Colloseum in Rome. It's been renovated as an opera venue. The opera season is over but there have been a few performances like the one we saw. It was excellent!
Even with a full day's exploring on Day 1, in which we saw the old Roman stone bridge, climbed the medieval tower (Torre Lamberti), went to a brilliant art exhibition in a beautiful old palazzo and ate and drank to our heart's content, we set ourselves for more today. We made the second day a church day and we planned to see the Duomo and another church, the Sant' Anastasia. We found there is a ticket that admits you to 4 of the city's churches, including the two we intended to see. So we bought it and set off. Meantime, we received an email from the lady who owns our apartment, telling us to be sure and visit the other two of the four churches. In between finding a really nice and cheap bar/restaurant in a tiny piazza and buying a couple of kids' books in Italian to read to our grandchildren, we inspected Sant' Anastasia. Two hours later, we were still walking around it with our mouths open. It's worth the trip to Italy on its own. It's really an art gallery, which explains why there is a small admission price.
There is an amazing number of frescoes, paintings and sculptures in the church and there were scores of great artists commissioned over the years to contribute. It's just wonderful. The Duomo was another eye-opener and then we somehow fitted in the San Giovanni in Fonte, with its paintings of 416 saints in the wooden ceiling! As jaw-dropping and inspiring as it is to see all this, it's quite tiring to take it all in, in a single day.
Day 3 we had another very full day planned, with the museum of the Castelvecchio, the 14th century fort, and near the Arena and the special exhibition of Paolo Veronese, said to be one of Verona's greatest painters. What with finding accessible and cheap little bars for coffee and drinks and little places to eat, the days are full, tiring and very satisfying.