French Countryside by River Canal Boat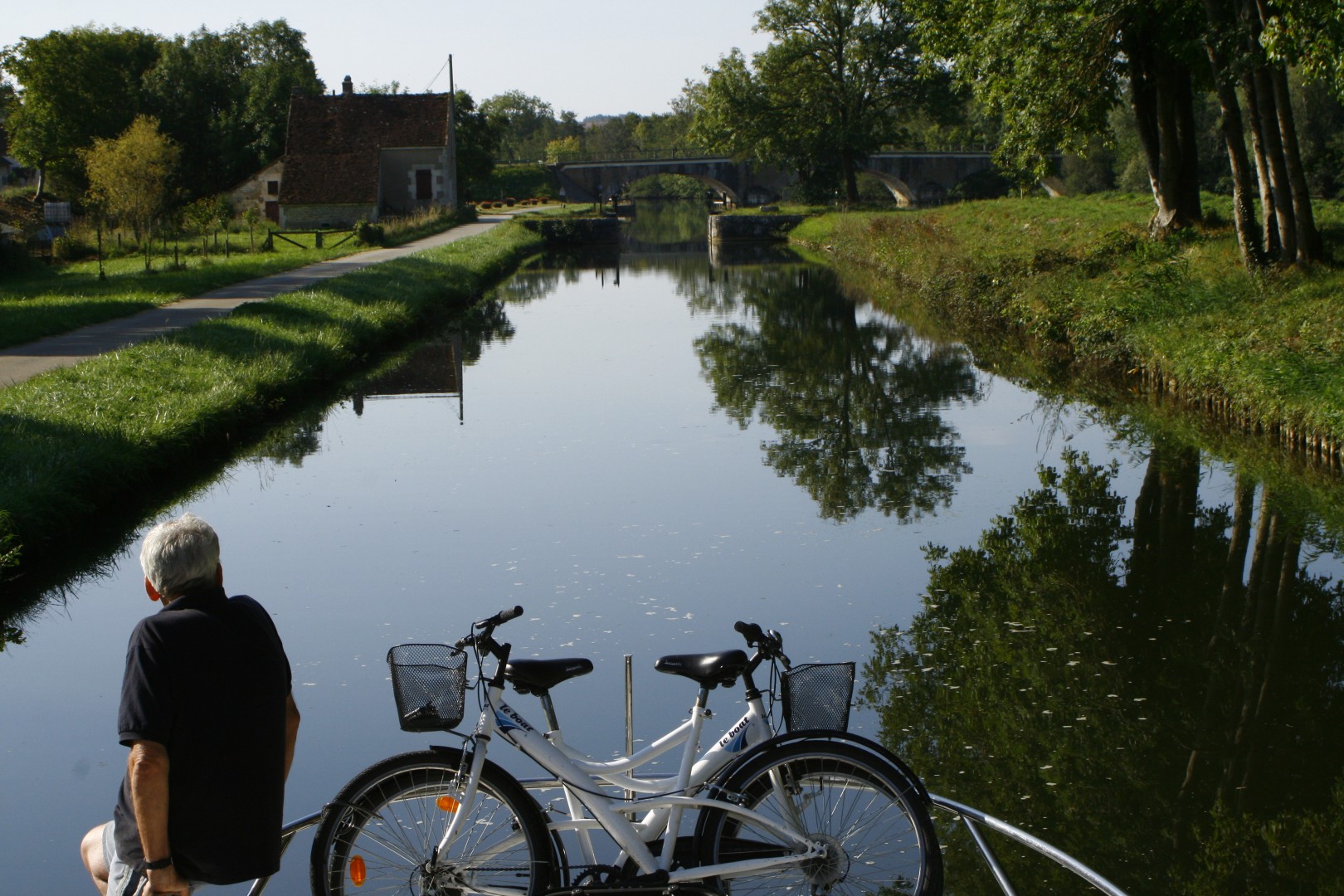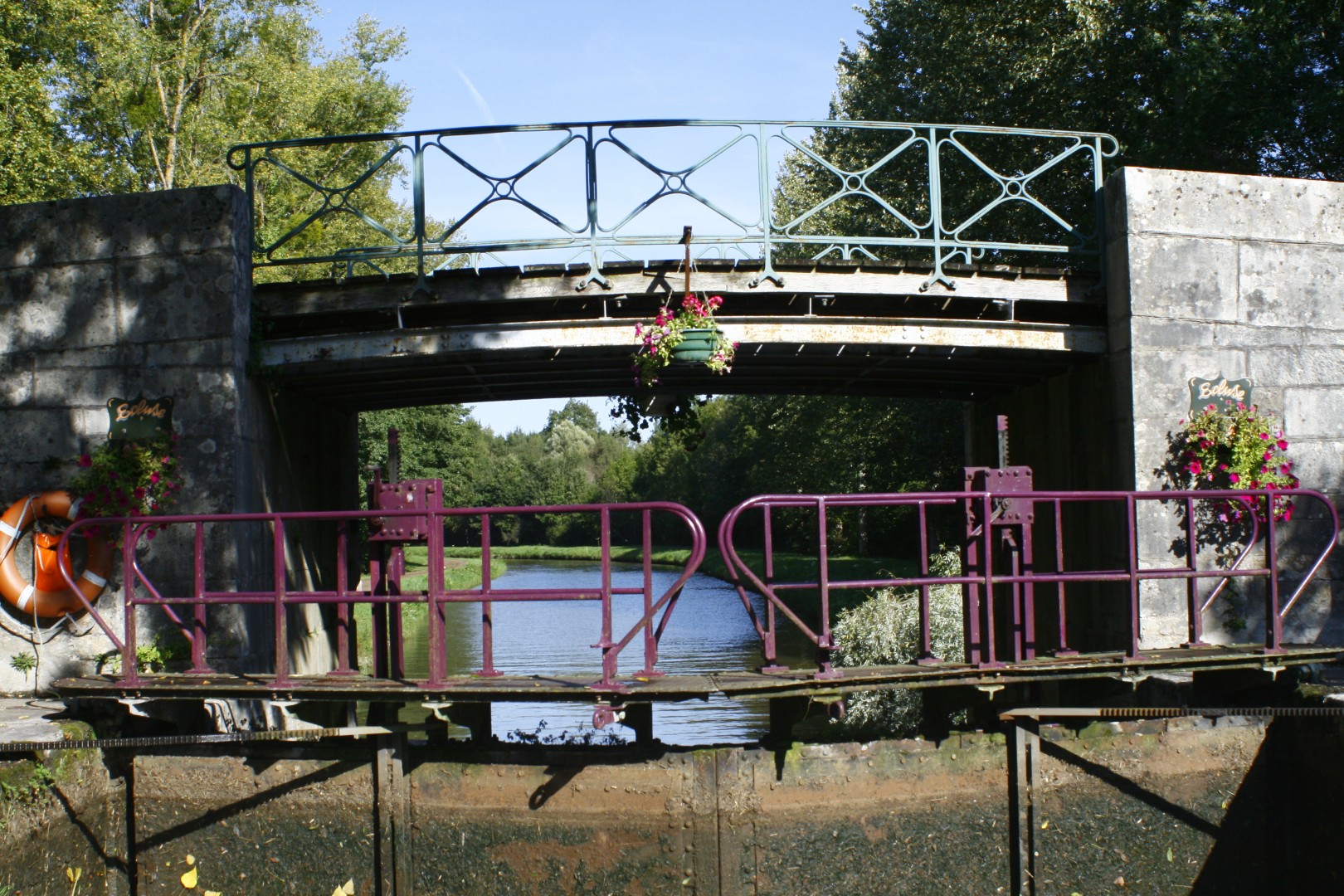 DIY River Cruising in France
Julie and I and another Aussie couple had a gentle but fully engaging week-long adventure on our own boat on a canal deep in the French countryside.
After the usual totally uplifting few days in Paris, we took a train to a little town called Migennes, in the Burgundy region. This is where the canal boat business has one of its bases. Getting right into the culture of small town France, we found the office closed from 12:00 to 2:00 pm. They greeted us happily as we arrived but asked us to come back for our orientation and instructions at 2:00. They suggested we might like to take lunch at a little restaurant across the road and I'm so glad we did! The restaurant was packed when we arrived at 12:30 or so but they took our reservation for 1:30. It's just a simple little place and their lunch menu is a fixed price 11 Euro (maybe $15) for 3 courses. There were 3 choices for each course. Julie and I had the charcuterie plate for an entree and boeuf bourguignon for a main (apologies to our vegetarian relatives). The charcuterie plate had 2 incredible terrines plus a couple of slices of salami. The terrines we had seen when we were in the butcher shop earlier and they were amazing: full of herbs and spices and meat. One had smoked meat and almost melted in the mouth. Talk about melt in your mouth, the waitress said the boeuf bourguignon would melt in our mouths and boy did it ever. It was served with beautifully cooked, sliced potatoes and was rich with red wine. The dessert I had was called "floating islands" and was basically a large moist meringue on a little sea of caramel sauce, with hard toffee drizzled over the top. How civilised is it to find a little place like this doing a roaring trade for the local people at lunch time on a Friday! Among the happy customers was a group of five guys who looked like they might have been local tradies of some kind, having a great time, talking and laughing and just finishing the second bottle of wine among them. They left just before 3:00 pm. We got to the boat office at about 3:00 and they didn't seem too concerned that we were an hour late. We were all tensed up for our boating lesson: we had signed up for a week-long self-drive cruise along the Nivernais canal, an offshoot of the Yonne River, in a part of France we had not visited, nor heard of, but which proved to be totally rewarding and lovely in every way. The boat people's instruction was very good and relaxed and it was a little daunting to be told "au revoir" after just an hour or so and a quick up and back, taking turns at the wheel. We had to negotiate a lock right at the start and the instructor watched and guided us though that one and then waved us off. Under the first bridge and into a patch of weed and the boat lost headway and steering. Oh dear. Embarrassing. Throttle forwards and backwards a few times and away we went. But with some reduced power we all thought. We negotiated another lock and took the opportunity of a little mooring dock to put in for the night. I was driving though all this and although you get the hang of it after awhile it's mentally full on the first time you do it. There is a little wobbling from side to side involved as you get the feel of the wheel.   For dinner, Julie W fried one of the "saucisses" we bought from a lovely boucher in Migennes. The major shopkeepers we visited on this trip, such as butchers, bakers and charcutiers were extremely proud of their stock and their display was beautifully set out. We also bought some thickly sliced ham, terrines and (a bit out of place in a butcher but looking yummy) some creme caramels in little foil bowls. With some salad from the supermarket, it was a very nice dinner.   After a little getting used to the tight sleeping quarters, we had a great sleep and headed off the next morning. We motored along nicely on day 2, trying to reach Auxerre, a town with full facilities, like restaurants, laundromats, etc. If we can reach there in a day, it will be a good start to the trip and will give us confidence that we can complete the 120 km trip in the seven days we have. We might have a sightseeing and washing day tomorrow if we make it to Auxerre and try to find a wifi connection to send off some pictures and emails. We were making good progress so Julie and I got on the bikes after we moored at the side of the bank at around 12:00. The lock-keepers go off for lunch for a couple of hours so that's when the boaters have their lunches too. We cycled into the little village of Gurgy to buy baguettes, cheeses and pastries for lunch. Another beautiful patisserie with a proud lady in charge. She was chuffed to be told she has a beautiful shop. Several locks later we arrived in Auxerre, and tied up at a marina while listening to the church bells (it's Sunday). It's amazing to see but there are three cathedrals visible across the river from us, all seemingly from the same Gothic era. How and why would a relatively small town build three very expensive symbolic buildings all within a space of half a kilometre and seemingly within a century or two of each other? Some research needed!
We have 5 more nights on our boat so we need to check our itinerary tonight and plan how far we need to travel each day. The number of locks is a big factor. I think we have passed about 7 or 8 and have more than 40 to go! I'll make passing through a lock the subject of another blog post. It might seem obvious but the devil is in the detail. The boat is in good shape so far, so we feel like real boaties (except when the lock-keepers give us those funny looks …).
This holiday experience was made possible by Tanya at TT Golf: http://ttgolf.com.au/