Australian Golf Tours and Golf Packages
Overview
Packages include 5 nights accommodation, 3 rounds of 18hole golf, breakfast daily and carts.
Per Person Twin Share in each region and is subject to availability.
Araluen Golf Resort
– A Roger Mackay and Michael Coate course built in the Armidale hills. It has lush couch fairways with fast undulating greens, and wondrous views of wooded valleys below. Accommodation 20minutes away in world famous Fremantle, at
The Esplanade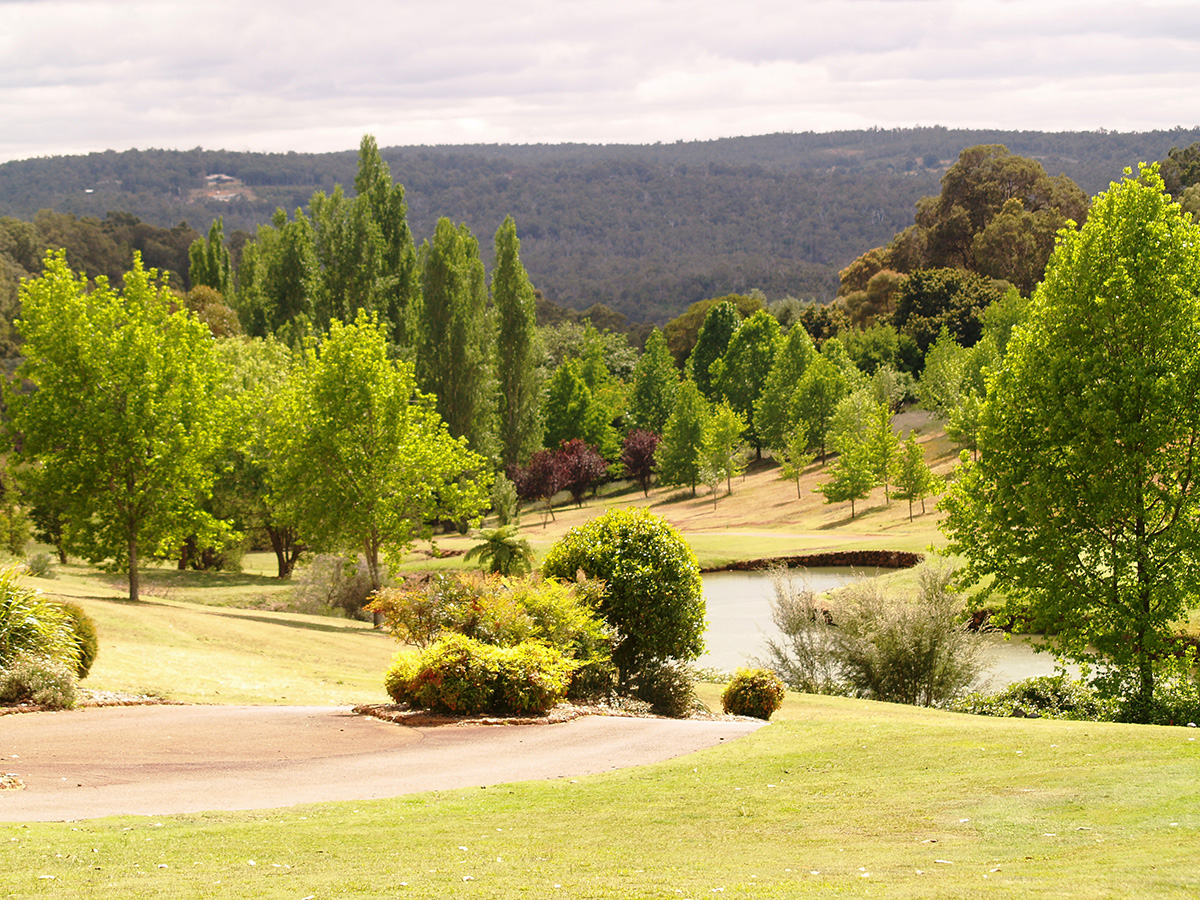 Barham Golf & Country Club – A well established course with grass greens and challenging bunkers throughout including the 5th Gallipoli a massive bunker located just before the green. Stay on-site along side of the famous Murray River.
Barwon Heads Golf Club – A links style course set amongst coastal tee tree and sand dunes. It has undulating fast running fairways and very slick greens with strategic bunkering and affected by coastal winds. Golfers have been making use of the accommodation facilities within the iconic Barwon Heads Clubhouse since 1924.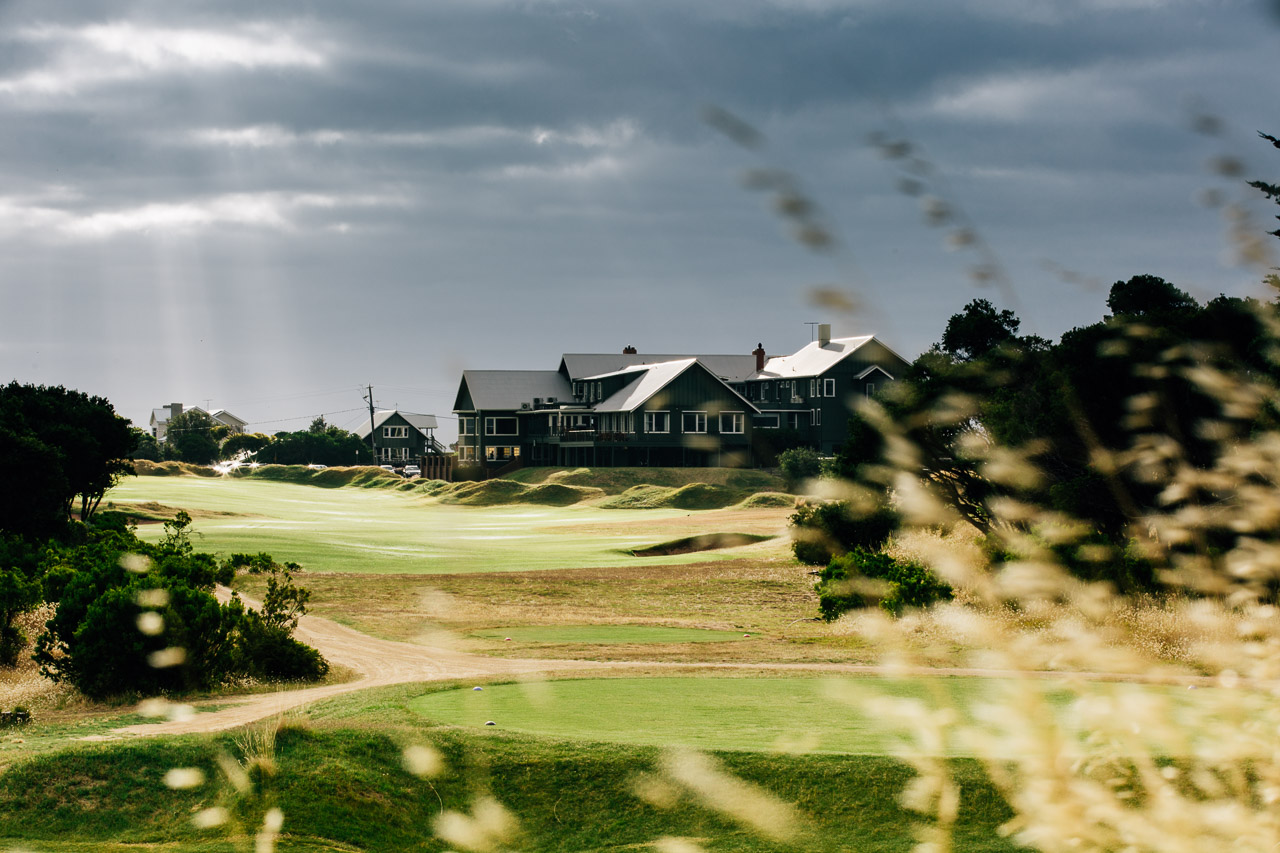 Brookwater Golf Club – A Greg Norman design with all fairways bordered by tall eucalypts requiring all golfers to bring their absolute "A " grade to the course or suffer to what is regarded as possibly the toughest course in Australia. Only 35minutes from Brisbane CBD.

Camden Lakeside Country Club – A distinctive links style course with excellent pot bunkers and perched greens among the many natural features of the local rural landscape. Accommodation is 50minutes away in beautiful Milton Park Bowral.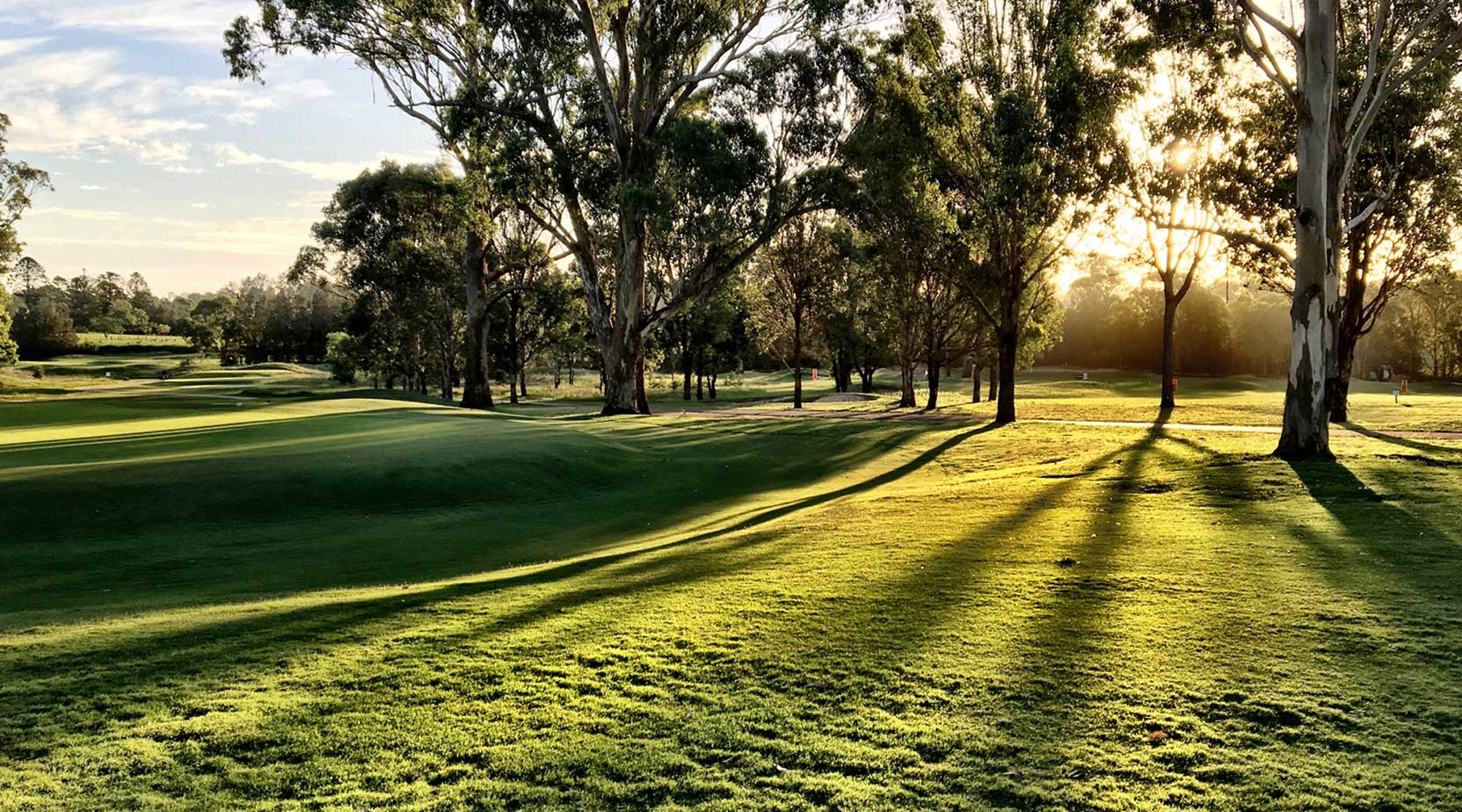 Club Pelican – Another challenging Norman course where he uses the diverse natural landscape for an equally diverse layout. The course meanders through links type land and waterways with the final four holes perhaps the most challenging on the course.
Cobram Barooga Golf Club – Two highly rated Murray course both undulating and long with large hard greens. The pick of the courses being the Old course that has tree-lined fairways rather than the more open West course.
Commonwealth Golf Club – A private club located on Melbourne's famed sandbelt. Tree lined fairways and typical local bunkering, it has hosted Australian Open with a grand clubhouse overlooking the course.
Corowa Golf Club – The toughest and longest of all Murray courses. Set next to the mighty river with huge red gums in play on the old course tests the accuracy of all golfers with long fairways and pinpoint greens.
Cypress Lakes Golf & Country Club – Set amongst the vineyards of the Hunter Valley this championship course has over 70 bunkers and one of Australia's longest par 5's to contend with.
The Dunes Golf Links – One of the best value courses in Australia a beautiful and challenging links style course with deep cavernous bunkers and hard greens is affected with wind conditions.
Eagle Ridge Golf Course – Another excellent Peninsula course it has two differing nines one tight and tough the other long but open. Creative bunkering and introduction of lakes has transformed this course into a little beauty.
Glades Golf & Spa – A magnificent Norman course with lush couch fairways classic bunkering with elevated slick greens. Nine hectares of wetlands gives the golfer a golfer the feeling of isolation.
Heritage Golf & Country Club – The home of the only private Jack Nicklaus signature course boasting unrivalled views across the Yarra Valley. This course has wide undulating fairways with lakes and canals crossing the fairways.
Hope Island – A links style course designed by the TWP team, it has 128 tough pot bunkers to contend with as well as many grassy mounds and plenty of water along the course.
Huntingdale Golf Club – Home to the Australian Masters and located on the sandbelt with some of the toughest par fours on the Sandbelt.
Joondalup Golf Resort – A splendidly groomed course with three contrasting nines. The links style lakes nine with ocean views, the Trent Jones Jnr dramatic quarry.
Kennedy Bay – The Golf Club – A true links style course typical of Scotland and Ireland with 115 pot bunkers and views of the Indian Ocean.
Kingston Heath Golf Club – Rated No 2 in Australia simply a magnificent course with tree lined dogleg fairways and typical sandbelt bunkering.
Lakelands Golf Club – Another Nicklaus signature course with perfect manicured fairways and meandering waterways with a choice a five tee positions to suit all levels of golfers.
Links Lady Bay – A true St Andrews style sand based links style course overlooking the Fleurieu coastline. Designed by Newtown Spencer and Grant it is another great value course.
The Links Golf Club – Open and undulating the only tropical links course in the world. It has been built on reclaimed land situated on sand blown open coastal land adjacent to the Coral Sea.
Meadow Springs – A firm fast running course always known to be in peak condition. There are four sparkling artificial lakes as the course loops away from the resort with no adjacent holes.
Metropolitan Golf Club – Rated in Australia's top 10 courses this magnificent private course has hosted many Australian opens as well as the Accenture world matchplay tournament.
Mirage Country Club – A luxurious resort style golf course with large greens and wide fairways the course winds around the 5 star resort with occasional glimpses of the Coral Sea.
Murray Downs – Highly acclaimed course which wears the mantle of the best Murray course as it has well groomed fairways with a variety of interesting holes that give the golfer a chance to play well.
New South Wales Golf Club – This course is regularly spoken about being the equal of any top sandbelt course, set amongst the hills and valleys that hug the rugged Pacific Ocean coastline.
Noosa Springs Country Club – A gentle undulating course designed to take advantage of the Noosa National Park forest and LakeWeyba. A tight layout with lakes and streams meandering throughout the course.
North Lakes Golf Club – A Graham Marsh championship course which follows streams with areas of native bush land and trees. Excellent all year round course designed with 4 tee positions.
Palm Meadows – Another excellent Marsh course with water coming into play on 14 holes along with 82 bunkers. A true test of golf with the final hole regarded as one of Australia's finest Par 5's.
Paradise Palms – A tough course with undulating fairways and large greens. A golfing experience for all who play there with several creeks and lakes running through the course with a stunning backdrop of the tropical rainforest.
The Peninsula Country Club – Two magnificent sandbelt like courses with tough strategic bunkering with the North course gong through a full renovation under Mike Clayton's expert guidance.
Portsea Golf Club – A superb natural course with an excellent variety of testing holes including some short but excellent designed holes that will prove to be some of the best tests of golf on the Peninsula.
Ranfurlie Golf Club – A well-presented highly ranked Mike Clayton course, which combines elements of traditional links with sandbelt style bunkering to produce a true test of golf.
Rich River Golf Club – Two excellent Murray courses with the old style and tighter west course with elevated greens, compared with the more open Thomson designed east course with large greens and water features.
Robina Woods – Designed by Watson and Marsh the rolling fairways are set amongst stately stands of towering gums with natural waterways and lakes. Each hole has its own character with four of the best finishing holes around.
Royal Melbourne Golf Club – Simply the best courses in Australia with two fine sandbelt tracks with tough bunkering and immaculate tree lined fairways and large hard true greens.
Royal Pines Resort – The ultimate golfing resort set amongst countless lakes and bunkers on gentle undulating terrain with a backdrop of the hinterland mountains and the Gold Coast skyline.
Sanctuary Cove Resort – The Palms is one of Queensland's favorite resort courses. Designed around old groves of cabbage palms with 73 bunkers and 14 water hazards. The Pines is an Arnold Palmer design with large pines and superb bunkering.
Sanctuary Lakes Golf Club – Greg Normans first design in Melbourne, a quality links style course with tough bunkers and long winding fairways.
Secret Harbour – A fast running couch fairways. It reflects the traditional style of Scottish links with bunkers littered throughout the course.
Sorrento Golf Club – A hidden gem located on the Mornington Peninsula has generous fairways surrounded by heavily wooded plantations.
St Andrews Beach – Two 18 holes courses with the private Gunnamatta layout opening to rave reviews with the Fingal course to open in 2006.
Spring Valley Golf Club – A true test of golf featuring firm pure couch fairways and fast greens. A magnificent new clubhouse opened in 2003.
St Michaels Golf Club – One of Sydney's hidden gems which is a spectacular links course shaped by nature. It lies along the cliffs of pacific coast adjacent to Botany Bay with undulating fairways and many deep bunkers.
Sun City Country Club – A championship layout that has used the surrounding barren land to make an excellent golf course. The well-placed fluffy bunkers and wide rough insulate each hole from its neighbours.
Tasmania Golf Club – A championship coastal course with breathtaking views over Barilla Bay. Fully watered with excellent sloping greens.
Thirteenth Beach – Two magnificent courses with the challenging beach course an excellent array of differing holes, whilst the Faldo designed Creek course is a little more forgiving but with many hidden traps.
Torquay Sands – Opened in July 2004, it is Stuart Appleby's first foray into golf design with rave reviews. The course winds its way through dune country and residential precincts having beach views on a few holes.
Twin Waters Resort – A challenging first class links style layout designed by Peter Thomson with generous rolling fairways with mounds and pot bunkers.
The Vines Resort – A superbly conditioned course with two 18 holes layouts of championship standard – Host venue for the 1993 – 2001 Heineken Classic.
Woodlands Golf Club – A hidden gem amongst other courses. A shorter course than its local brothers but well designed keeping golfers honest.
Yarra Yarra Golf Club – Another fine sandbelt course with some of the best Par 3's available. It was the host venue for the Australian Ladies open.
TT Golf thanks The Golf Course Guide for its descriptions of all courses.